---
Last weekend, over 100 student leaders from across the country and around the world participated in a students-only weekend event dedicated to deepening their understanding of Ayn Rand's ideas. Students not only learned from our long list of experts, they were able to discuss and debate these ideas with each other, and share their mutual appreciation for Rand.
As the director of development at TU, I was thrilled to observe an overwhelmingly positive and inviting atmosphere between the students and speakers. We expected a culture of camaraderie and collegial networking, and hoped to see some friendships blossom, but what we experienced this past weekend was well beyond our expectations! Speaker after speaker informed us that this group of students were amongst the most intelligent, more inquisitive, and most intellectually serious they'd ever encountered. 


We'll be sending a more comprehensive summary in a few weeks, but we wanted to immediately share a quick overview and a few amazing highlights right away:
 
Saturday –  Free Books and Photos with John Allison
 

 
This year we were excited for the rare opportunity to have John Allison, President and CEO of the Cato Institute, inspire students in explaining how they can lead the philosophical fight for their own futures. Afterward, he joined Yaron Brook and Don Watkins for a joint free books and photo session event, a huge hit with our students!

 Yaron Brook and Don Watkins met with students to discuss their co-authored book, Free Market Revolution. Students were eager to have their books signed by these two great thinkers!
 


Free books event with Don Watkins and Yaron Brook 
---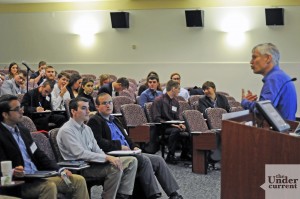 Left: Yaron Brook delivers a captivating talk on the morality of Capitalism
Right: Meet & greet with John Allison
 
Saturday –  Q&A Session on Objecivism and Ayn Rand
 

 
Onkar Ghate, Greg Salmieri, and Steve Simpson from the Ayn Rand Institute led a penetrating question and answer session, masterfully responding to a wide variety of students' Objectivism-related questions. Our participants loved the opportunity to engage in such a "deep dive" into the core of Rand's influential philosophy.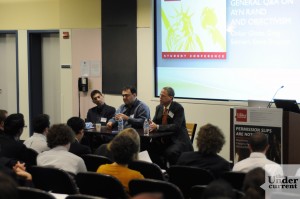 Students ask general questions on Objectivism


Saturday – 5:00 PM: The Morality of the Welfare State


Don Watkins, co-author of Free Market Revolution: How Ayn Rand's Ideas Can End Big Government and fellow at the Ayn Rand Institute, led a spirited discussion on the history and morality of welfare programs such as Social Security and Medicaid.
Students learned the significance of not only the financial but also the moral threat presented by these unfunded liabilities.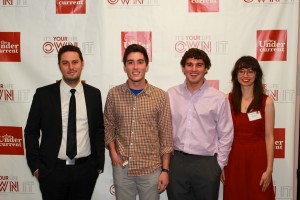 Don Watkins delivers a talk on the dangers of the welfare state and later meets with students for photos
 
Sunday – 11:45 AM: Selfish Trading Luncheon
 

 
Students are still raving about Jonathan Hoenig's energetic, motivational, myth-busting seminar about the virtues and benefits of selfish trade, both in business and in real life.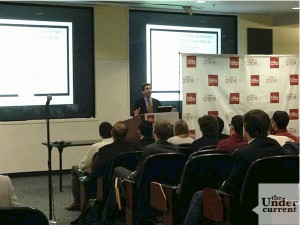 Presentation and questions with Jonathan Hoenig
These events are just a taste of what TUSC 2014 had to offer. Other events on intellectual property, privacy, communication, free will, legal philosophy, morality, and general interest in Objectivism garnered rave reviews!
 (View the complete list of speakers and topics here.)

Other featured events
Saturday and Sunday – 5:55 PM: Dinner and Socials


 
Students had dinner and personally interacted with other young leaders from across the country, as well as our esteemed speakers.
 If ever an event captured Rand's idea of burgeoning "new intellectuals", this gathering certainly did!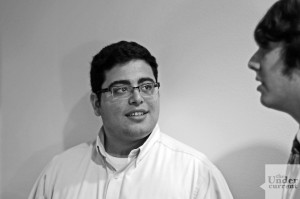 Students gather to network and discuss the first day of lectures

Regular Surveys – Saturday & Sunday


 
We polled students before and after each talk to track the impact of our program. 


 
Students reported significant levels of improved understanding of the various topics, especially in the area of free will. In fact, we saw a significant decrease in students who claimed that man is the product of  deterministic factors, such as heredity and upbringing. Another interesting find is that we received positive response and growth in understanding of areas of intellectual and privacy, which are quite controversial within the liberty movement. 


Small sample of total collected data 

We also conducted entrance and exit surveys. These data points will give us insights into how the students' broader views on Rand, the philosophy, and application of her ideas changed throughout the duration of the conference.
Summary results from these surveys will be included in a future report. In the meantime, please do look through all of our conference photos! (https://www.facebook.com/media/set/?set=a.10152827915832437.1073741829.27894627436&type=3)
 
As with any inaugural event, we faced some major challenges with this conference. There were complications with transportation, venue and lodging logistics. And because of our tight budget, we had to make some compromises along the way. I'm happy to report that while these challenges were significant, they did not undermine the purpose of the event and its value to our student participants.

If this update excites you as much as it excites us, I hope that you'll take action today and support us further.
 Having proven the concept, we're eager to raise the funding necessary to make the next conference even more impactful than this first one.
Cheers to a hopeful future for Objectivism!
Brittney F. Rivera
Director of Development
The Undercurrent
---
Follow us on Twitter
"Like" us on Facebook