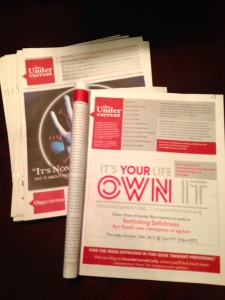 The newest edition of The Undercurrent is now available to order, and will arrive on your doorstep in the middle of March! Place your order by clicking here, or e-mail your name, address, and the number of copies you would like to contact@the-undercurrent.com. The deadline to order has been extended to March 4th, so get yours today! The Undercurrent is sold at or below our cost to print and ship the papers. Here are the prices for the Spring 2014 issue (including shipping and handling): 250 copies $30.00 500 copies $60.00 750 copies $85.00 1000 copies $115.00 1500 copies $165.00
If you would like to hand out copies but cannot afford to do so, please let us know. We may be able to find a donor to sponsor your distribution efforts. Send your request by e-mail to: contact@the-undercurrent.com. On the other hand, if you have no time to distribute, we would greatly appreciate a donation. We'll gladly distribute to a college of your choosing, or select a deserving campus on your behalf.
In this issue, we survey the effect of government entitlements, analyze new Pope's "nonjudgmental" attitude on social issues, and explore why it's important for students to develop moral character. As a special treat, we will feature an article by guest contributor and best selling author Don Watkins, on his current campaign, "End the Debt Draft."
Support your favorite Objectivist student organization and order today!