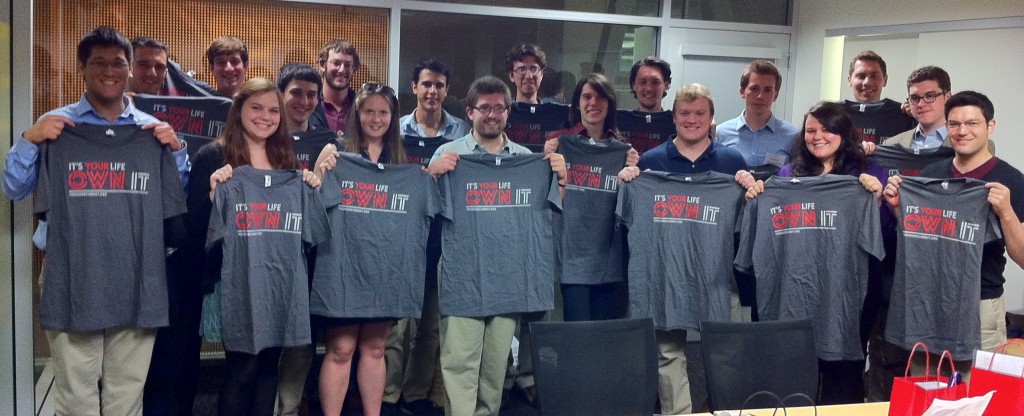 The Undercurrent is celebrating its tenth anniversary this April and big changes are in store. For the first time ever, TU has hired an executive director who is reinventing the organization's leadership, clubs, and programming to reach a broader audience of students.
Ten years ago, TU was founded by a group of friends looking for a way to increase the longevity of their Objectivist college campus clubs. Once club leaders graduated, clubs would lose momentum and dissolve. TU's founders hoped that a student Objectivist publication would help connect campus clubs across the country and keep club leaders involved in their clubs and the student Objectivist movement after they graduated.
From the very beginning, TU's commentary was focused on applying philosophy to current events and contemporary issues students cared about. TU merged with OClubs in 2011 to offer mentoring for Objectivist club leaders, to help leaders reach out to more students by improving the quality of their discussion meetings and programming.
In 2013, TU partnered with student Objectivist clubs to create the "It's Your Life, Own It" campaign, which focused on the personal and practical importance of applying philosophy to one's own life. TU produced a series of videos interviewing successful Objectivists, asking them what it meant to live selfishly, what it takes to live the best life possible, what it takes to achieve one's own happiness.
To offer students more rigorous leadership training, TU held its first Leadership Seminar in the fall of 2013 at Stanford University. The three-day event brought together 20 of the top Objectivist student club leaders to discuss club development, marketing strategies, and longevity. Last fall in Washington, D.C., TU held its first student conference, where students could ask experts their questions about Objectivism. The theme of the conference was "Ayn Rand's Individualism and the Case for Liberty."
Inspired by TU's campaign, its new executive director, Margaret Malewski, wants to structure TU to focus more on career building and self-development for students. Objectivism is a philosophy about self-development and growth, so Malewski wants TU's lectures, events, and workshops to be geared toward helping its members and students at large improve themselves. Self-development is what college is all about and why many students elect to attend it.
"In college, my expectations were that I had to be wealthy, and I had to have things I could show other people that communicated my wealth and success to them," Malewski said. "In retrospect, that's not as important. What's important is that you like what you do and seek to be independent. And ultimately, that does lead to wealth and success, but that's only an effect."
Future events will include networking opportunities for students to meet industry professionals who share their career values and workshops that help students learn how to apply Objectivist ideas to moral dilemmas encountered in everyday life such as questions about how to make career decisions in the face of parental objections, or how to weigh career goals against romantic relationships.
By focusing on self-development and career building, Malewski believes more students will learn of the value Objectivism and TU have to offer.
"There are always students who want more," Malewski said. "There are always students who want to develop themselves in some way. If you are a student that wants to get the most out of your university time, but believe not everything is learned in the classroom then you will want to join a club or organization that will help you do that."
Malewski's views on education and career were informed by her college experiences in post-communist Poland during the early 1990s. Poland's universities were highly focused on academics and students pursued their studies as a kind of intellectual hobby, since there was little connection between academic or extracurricular achievement and finding a job in the largely state-controlled workplace.
To gain more from her educational experience, Malewski participated in Board of European Students of Technology, a student organization that focused on providing students with career and leadership opportunities. Through BEST, Malewski gained the professional experiences above and beyond the standard curriculum, which became vital to her success as the founder and CEO of her company Liquivision Products, Inc., a hardware startup that was recently acquired by Huish Outdoors.
"I think the most important thing for students to learn about Ayn Rand's philosophy is how to be their own person," Malewski said. "Growing up, that was very difficult for me. I couldn't tell the difference between the things I had to do because they were expected of me by my parents and the things I wanted to do for me. Objectivism helped me do that."
In light of TU's major executive changes, Margaret is recruiting 10 students from across the U.S. to pioneer the organization's new programming. The 10 chosen students will spend the next five months working with Margaret to plan events and workshops that clubs will host during the upcoming academic year. Students will also develop programming for TU's second national student conference that will be in the fall.